Written by: Travis Reinke
I'll be honest, I had never heard of Sean McConnell until Kyle gave me his latest CD, Saints, Thieves and Liars, one week before Sean was set to grace the Dosey Doe stage. I am typically a hard sell when it comes to new music. However, once I popped it into my CD player and heard the first track titled Maybe You Can Love Me Anyway with remarkable lyrics set to dynamic melodies and vocal arrangements sure to make anyone raise an eyebrow in amazement, I was an instant fan. However, he still had to pass the ultimate litmus test, my family. To no surprise, they all fell under the same magnificent spell.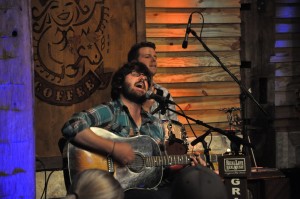 In typical fashion, I began looking for anything this guy had ever created and quickly stumbled upon a song from his 200 Orange Street Album titled If These Walls Could Speak and was immediately jolted back 25 years to a time when things were so much simpler. Sean has such a magical way of not just telling an engaging story, but drawing the listener into the very emotion of the song.
A little more pre-show research led me to his background singing and playing in church and his involvement with Young Life, a nationwide outreach program for high school students. It was apparent to me that it was this background that influenced his ability to connect with his audiences is such a dynamic way.
In a pre-show green room interview, Sean shared the secret behind his songwriting style – "honesty". "Because even if they are not great songs" McConnell explained, "people will still resonate to that honesty".

The entire evening was magical starting off with a stripped-down version of The Other Side performed with the backing of only an acoustic guitar and organ.
The story behind the song Somewhere Beautiful is one that particularly stood out to me. It inspired me so greatly that I have not only shared it with friends on numerous occasions, but also referenced it in a closing presentation for a conference that I was invited to speak at. Sean described being on vacation with his family in Destin, Florida during Spring Break, looking down from the hotel room at all of the teenagers on the strip and having a conversation with his brother about if they could pull someone from their car, grab them by the shoulders and tell them "here's a bunch of mistakes you don't have to make", would they still need to make them on their own or could they learn from his mistakes. I know that I am one that has had to learn it the hard way… on my own, even though I've been warned about the outcome. The song took on a new, special meaning for me at that point. It engaged me in a very unique way. Sean smoothly transitioned into the old hymn Peace Like a River at the end of the song, stirring emotions throughout the walls of the historic music venue.
Toward the end of the show, Sean sang a song that summed everything up on an even more spiritual level. Having been raised in a strict religious upbringing and slowly finding my way into an honest, balanced faith, his song Praise the Lord really struck the depth of my soul. "You're not who I thought You were" he sang, "Praise the Lord". The song deals with all of the things that we are told God is, but when we come to find him on our own, he's not really any of those complicated things at all, "praise the lord!"
It is very rare that an artist is able to make such an impact on me and my family. I still cannot stop listening to his songs and the live show. If you missed it, you can hear portions of the live performance and the stories behind the songs here. You can also join us for the Real Life Real Musc Second Annual Music Festival at Bernhardt Winery in Plantersville, Texas on October 1, 2011. Bring a friend. Trust me, you will be glad you did!
Here's Sean's hit single Lie Baby Lie from our Real Life Real Music show recorded live at Dosey Doe:

For more videos of Sean, visit our YouTube channel.