Real Life has experienced exponential growth and has become truly what it was designed to be, "An Hour of Music That Matters", currently broadcast in 11 syndicated markets across the state of Texas.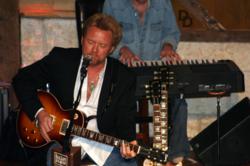 Real Life Real Music Live @ Dosey Doe in The Woodlands, Texas
Amidst the 150 year old barn walls of Dosey Doe, artists provide an uncommon glimpse into the stories behind their songs, accented by the occasional rattle of forks and knives on "gourmet blue plate specials"
The Woodlands, TX (PRWEB) July 08, 2011
Real Life Real Music is proud to announce its Season Nine line-up featuring exciting and diverse musical talents and styles. Now in its 5th year, Real Life has experienced exponential growth and has become truly what it was designed to be, "An Hour of Music That Matters" and currently broadcast in 11 syndicated markets across the state of Texas. Amidst the 150 year old barn walls of Dosey Doe, located in The Woodlands, Texas, artists provide an uncommon glimpse into the stories behind their songs, accented by the occasional rattle of forks and knives on "gourmet blue plate specials".
RLRM Radio transports the listener to the stage and provides front row seating for all. The broadcast of the live recordings attracts hundreds of thousands of enthusiastic studio audiences from far and wide on a weekly basis. Real Life Real Music Season 9 singer/songwriters have cumulatively sold millions of records and run the gamut from living legends to current chart toppers.
Season 9 artists include:
Marcia Ball, July 12, 2011
Kicking off the Season 9 tapings will be American Blues singer and pianist, Marcia Ball. Marcia joins Real Life host Kyle Hutton to tell the stories behind her groove-laden New Orleans R&B and driving Gulf Coast blues that have made her a one-of-a-kind favorite of music fans all over the world. The Boston Herald says, "Piano pounding Marcia Ball plays masterful, red hot tracks from the Texas-Louisiana border. Her voice can break your heart with a ballad or break your back with a rocker." The Austin Chronicle heralds her as "a class act whose soulful, horn-laden swamp pop and murderous honky-tonk make her a stellar example of musical artistry."
Chuck Cannon, July 26, 2011
Chuck Cannon was born and raised in South Carolina. His father was a Pentecostal preacher. He was inspired at an early age by local folk songs as well as black spiritual songs. He later performed at local venues, then moved to Nashville, Tennessee, where he attended Belmont University. By 1988, he was signed to a songwriting contract. Cannon's "If I Was Jesus" was nominated for the 7th Annual Independent Music Awards for Americana Song of the year. One of Cannon's first notable compositions was "I Love the Way You Love Me", a Number One hit for John Michael Montgomery in 1993, which Cannon co-wrote with Victoria Shaw. This song also won the Song of the Year award at the Academy of Country Music awards, which is awarded to songwriters. From there, Cannon began working primarily for Toby Keith, including "Me Too", "Dream Walkin'", "We Were in Love", "Getcha Some", "If a Man Answers" and "When Love Fades" in the late 1990s, "How Do You Like Me Now?!" in 2000, and "American Soldier" in 2003-2004. "How Do You Like Me Now?!" was also the Number One country song of the year according to the Billboard Year-End charts. Both it and "I Love the Way You Love Me" earned Eight-Million-Air awards from Broadcast Music Incorporated for receiving eight million spins at radio. Cannon also self-released two albums: God Shaped Hole and Love and Money in 2006 and 2008, respectively.
Wade Hayes, August 9, 2011
Whether you call it "neo-classic" or "neo-traditional," Wade Hayes' music is all about honoring the traditional music that he loves. "The music I grew up on. It was really good music. Gene Watson, Gary Stewart, Merle Haggard, Willie Nelson, Waylon Jennings – those are my top 5." Wade has built his own solid reputation as a performer. Beginning with his signature #1 song "Old Enough to Know Better" he's cut a path through the country music landscape with top tunes "I'm Still Dancin' With You," "What I Meant to Say," "Don't Stop," "The Day That She Left Tulsa," and others. He was named Billboard Magazine's "Top New Country Artist in 1995," and in 1997 was chosen the "Male Star of Tomorrow" by TNN Music City News. What he brings to the country music scene is a distinctive heart-reaching baritone, well-written songs and outstanding musicianship. There isn't another voice like his on country radio. Audiences connect with the songs that he writes – whether they have you wanting to dance, chuckling out loud or wiping tears from your eyes. And you can stack him right in there with Nashville's top guitar players. When he strides on stage, you know that he was born to be there.
BJ Thomas, August 23, 2011 *SPECIAL: RLRM 100th Show
Music certainly "got" B.J. Thomas from a very early age. Born in rural Hugo, Oklahoma, just north of the Texas border, his family soon moved to Houston, where he was attracted to the country of Ernest Tubb and Hank Williams (one of his strongest memories is of attending a Hank concert with his father) and the soul of Jackie Wilson and Little Richard, whose 'Miss Ann' was the first single B.J. ever bought. After his initial successes on a small Southern label, B.J. signed with New York's Scepter, where the roster also included The Shirelles and Dionne Warwick. In fact, it was Warwick who introduced B.J. to songwriter-producer Burt Bacharach, leading to his performance of 'Raindrops Keep Fallin' on My Head' for Butch Cassidy & the Sundance Kid. "All I am is just another guy. I've been very lucky. I've had a wonderful life, I've been a husband and a father who cherishes his children and now I'm a grandfather, and I'm motivated like all these teachers and preachers and mothers and fathers to help my kids grow up with character and self-respect. I hope that doesn't sound too grandiose, but that's what it comes down to. It's what I've tried to do with my music and with the majority of my life." That he has succeeded at home and still maintained a place as one of music's most recognizable voices is truly remarkable.
Jim Lauderdale, September 6, 2011
Jim Lauderdale is a multi-talented performer and songwriter, with successes in both country and bluegrass music. His roots stem from the Carolinas, yet his career has taken him all over the United States and abroad, making him an international recording artist with an ever-growing fan base. Jim won "Artist of the Year" and "Song of the Year" at the first "Honors and Awards Show" held by the Americana Music Association in 2002. Subsequently, he has hosted this same show for the last seven years. He is among Nashville's "A" list of songwriters, with songs recorded by artists such as: Patty Loveless, George Jones, The Dixie Chicks, Solomon Burke, Mark Chesnutt, Dave Edmunds, John Mayall, Kathy Mattea, Lee Ann Womack, Gary Allan, Blake Shelton. Vince Gill, and George Strait. He also contributed several songs to the successful soundtrack of the George Strait film, "Pure Country." Not content to just write hits for the stars, he's toured with the likes of Lucinda Williams, Mary Chapin Carpenter, Rhonda Vincent and Elvis Costello, among others.
Rosehill, October 4, 2011
Rosehill are Myers and Mitch McBain, whose lifelong friendship began when both connected as music fans and fledgling performers while growing up together on Rosehill Drive in Cypress, Texas. "We met in high school," Mitch explains. "I wasn't a singer yet and Blake didn't play guitar. Our bond was created because we needed each other. When we started writing songs, everything clicked." The two would eventually become co-founders of the popular alt-country band Texas High Life, whose relentless touring, full-throttle shows and well-received albums tore up Texas clubs for nearly half a decade. But when the two sat down to write songs for the third THL disc, they discovered that they were instead headed in an entirely new direction. "As songwriters, we were always storytellers," says Mitch. "But now we were taking what was happening in our own lives and putting it on paper. We were proud of what we'd accomplished with Texas High Life, but we'd always set out to play country music. And when Blake and I started writing this time, we knew we were beginning with a clean slate." The two soon realized that these new songs – as well as their new duo dynamic – were something that was quite possibly bigger than Texas. "Like our song 'West Of Sunset' says, we 'had a guitar and amp and 15 songs, gonna burn some gasoline,'" remembers Blake. "When we got to Nashville and began talking to different producers, we knew that this was absolutely a re-birth for us. Everything we were doing was a 180-degree turn from the way we wrote, played and performed for years. As singers, songwriters and performers, we'd literally discovered our voices."
Granger Smith, October 18, 2011
"Music is what I do," says Granger. "If I can help someone get lost in the moment of a song long enough to forget the worries of the world, or long enough to remember what's most important, then I've done my job." Since his early teens, the native Texan has been writing, singing and honing his craft as a musician. Granger taught himself to play the guitar at 14, using the booklet inside the case stashed in his closet which showed him where to put his fingers. Granger's musical contributions are not limited to exotic travels or remote locations. At 19, his work paid off by landing him a deal with EMI Music Publishing in Nashville. Granger followed his dream to what would be a five-year stay in Tennessee. "That experience at 19 years old was critical in developing who I am today as an artist," says Granger. "I tried to soak in the craft of songwriting like a sponge from the older guys I was paired with. I credit so much of my learning to those mentors." Granger signed a new publishing contract with Universal South recording artist Phil Vassar in 2004 and returned home to the Lonestar State in order to ground himself as a Texas artist.
Don Schlitz, November 1, 2011
Schlitz wrote a song called "The Gambler" long ago (no, not on a warm summer's evening: He wrote it in the afternoon), and that one possesses what may be the most-quoted chorus in American song. "The Gambler" was Schlitz's first hit as a songwriter, and had he never written another tune then that one would likely have landed him in the Songwriters Hall of Fame. Rather than treat that success as a license to loaf, Schlitz, took it as a license to create, and he wound up penning "Forever and Ever Amen," "On The Other Hand," "I Take My Chances," "The Greatest," "When You Say Nothing At All" and hundreds of other songs, winning Grammys and CMA Awards and crafting a catalogue that would have landed him in the Songwriters Hall of Fame had he never written "The Gambler." He also moved beyond the radio, providing the soundtrack to Broadway's The Adventures of Tom Sawyer . For that theatre piece, Schlitz married his sensibilities to those of another wry storyteller, Mark Twain, who once wrote to a friend, "I am hard at work… merely for the love of it." Schlitz understands that notion. "In the end, there is only one engulfing reason to be a songwriter… the love of music, the joy of creating," Schlitz said. "The percentage of writers who make 'fortunes' is small, and none of them struck it rich without going through leaner times. You could take all of their money away, and they would still be writing songs. Why? Because they love it…. You do it for the sake of the song. And that is the best possible reason."
Darrell Scott, November 15, 2011
Much of the commentary about Darrell Scott's career has focused on the songs he's written that have been recorded by famous names and voices – those known in music industry parlance as "artists." But then there's the actual word artist, whose definition has nothing to do with radio hits and red carpets. We refer of course to those who create artifacts of aesthetic and intellectual contemplation and wonder, built from experience, skill, reflection and emotional intent. That's an artist. And that, at the end of the day, is Darrell Scott. This is made abundantly clear on A Crooked Road, Scott's sixth solo studio album. Recorded at home and entirely performed by Scott on a variety of instruments, A Crooked Road falls somewhere between a carefully crafted memoir and an arresting breach of privacy. From the deepest containers of memory, it recounts the bruises and blessings of 30 years of love relationships, stirring the heart with its intimacy and with the enthralling warmth and strength of Scott's rare voice and musicianship. It is certainly the most introspective and intense project of Scott's career, spilling over from one CD onto a second, and arranged as a journey with instrumental interludes and a sense of purpose that invites the listener to follow Scott along the crooked road of life, from romantic young man to drama king to lone poet.
Roger Creager, November 29
For more than a decade, Roger Creager built a reputation on his distinctive brand of hard-core, rabble-rousing Texas Country music, on his rich, full-bodied voice that can carry a tune for miles, and on his exceptional ability to work thousands of Texans into a rabid frenzy with his voice and guitar, in the great concert tradition of Jerry Jeff Walker and Robert Earl Keen. Along the way, he's been writing some mighty fine instant classics about family heirlooms, fields of bluebonnets, and late night trips to Mexico. Four albums, hundreds of thousands of road miles, and an ever-expanding fan base later, Here It Is has Roger Creager laying his cards on the table with thirteen songs that are arguably his best batch yet.
David Ball, December 6, 2011
You think you know David Ball … but the artist and the man run far deeper than the moments he has spent in the media spotlight. His contemporaries are not the usual suspects from Top 40 radio. Ball's spirit and music are more closely aligned with troubadours like Dwight Yoakam, Lyle Lovett and Guy Clark. Yes, there have been the hits. Fourteen of his singles have entered the Billboard charts, including "Thinkin' Problem" and "Riding With Private Malone," which made Ball one of the first artists to take an indie single to the Country Top 5. He has recorded a total of seven studio albums on different labels, including his platinum certified Thinkin' Problem. David grew up in Spartanburg, SC where he learned to play guitar but later honed his skills on the upright bass, which led to a gig playing bass in Uncle Walt's Band, credited as the first Americana act. The legendary trio was headed by Walter Hyatt and also included Champ Hood. A solo career led Ball to Nashville where he signed a publishing deal and later, a recording contract.
Real Life Real Music offers music fans far and wide an up-close and personal look into the life and songs of some of this generation's most talented singer/songwriters. Come be part of the Live at Dosey Doe studio audience or tune-in weekly to any of our 11 syndicated markets.
Season Tickets are available now at a 10% discount over individual tickets prices. Individual dinner show tickets are also available at http://doseydoescoffeeshop.com.
For more information about Real Life Real Music upcoming shows, weekly radio schedule, sponsorship or advertising opportunities, season tickets, individual tickets, festivals or summer student songwriter camps, visit our website at http://realliferealmusic.com or contact us at info@realliferealmusic.com.
Follow us on:
Facebook: http://www.facebook.com/realliferealmusic
Twitter: http://www.twitter.com/rlifermusic